c/o Toa Payoh Vets Pte Ltd
Blk 1002, Toa Payoh Lor 8, #01-1477, Singapore 319074
Republic of Singapore
Dr Sing Kong Yuen, David, BVMS (Glasgow)
Tel/SMS: (Singapore +65) 9668-6468, 6254-3326, 99pups@gmail.com
sinpets.com
12 August, 2020

PREMIUM REUSABLE WATER REPELLENT FACE MASKS

The World Health Organisation declared on Mar 11, 2020 that we have a Covid-19 pandemic. Covid-19 is a new coronavirus that spreads easily via air drops, infects and kills more people in the world now compared to SARS (Severe Acute Respiratory Syndrome) in 2003.

2020 Covid-19 Virus Update globally*
Date
Time
Infected
Deaths
Mar 13
5 pm
134,797
4,986
Jun 20
7 am
8,734,567
461,497
Aug 12
5 am
20, 407, 696
742,231
* More than 200 countries are affected
Covid-19 is a highly contagious virus and infected people do not show symptoms at the early stage of the disease. The World Health Organisation reported that Covid-19 will not disappear for several months. Hence, it is prudent to wear face mask when taking public transport or going to crowded places.

Wearing a face mask is not a 100% safeguard against Covid-19, but it will reduce the viral load if exposed. Sinpets is a website to market a PROFESSIONALLY MADE 3-ply or 4-ply REUSABLE face mask with a high quality centre filter (3-ply) or two center filters (4-ply) for adults and children. It is created from much research by a Singapore company. It is light-weight, fitting, breathable and comfortable. It is hand-washable with soap. Hang to dry after hand-washing daily.
We have 3 types of REUSABLE Premium Fabric Face Masks for sale

1. TYPE 1. 3-PLY FABRIC FACE MASKS FOR ADULTS/CHILDREN, KINDERGARTEN AND NURSERY.
1.1 Molded masks. They have 1 Moisture Repellent Filter. Children and Adult face masks are shown below:

Popular with children as they can breathe easily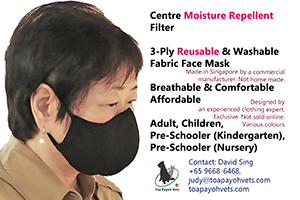 Breathable and comfortable

2. TYPE 2. 4-PLY FABRIC FACE MASKS FOR ADULTS/CHILDREN
2.1 Pleated masks. They have 2 Moisture Repellent Filters. Children's face mask is shown.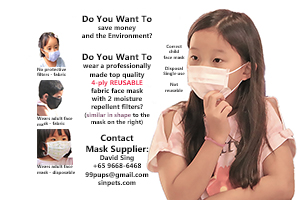 Incorrect sizes of masks are worn by many children in Singapore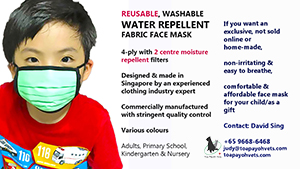 Children love this "surgical mask" type of reusable mask.
3. 4-PLY LUXURY LEATHER & FABRIC FACE MASKS WITH 2 CENTRE MOISTURE REPELLENT FILTERS FOR ADULTS. For those who want more breathable and more protection from respiratory droplet infections than the usual 3-ply face masks.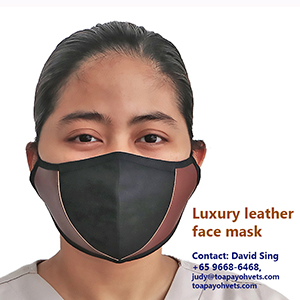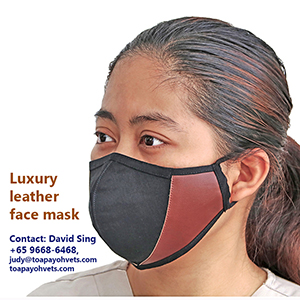 4-ply. Easier to breathe than the surgical mask structure.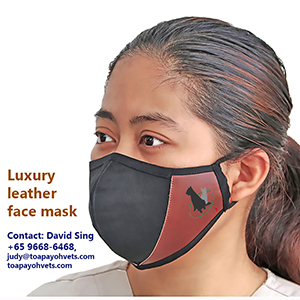 Customise your gift with your company logo or private labe
Various colours are available
2020 Covid-19 Update in Singapore - Ministry of Health
Date
Active Cases
HS
HC
Deaths
Apr 6
571
546
25
6
Apr 13
1,158
1,129
29
9
Aug 11
5,198
104
0
27

Active cases = Hospitalised (Stable) + Hospitalised (Critical) + In Community Facilities (not shown in this webpage)
HS = Hospitalised (Stable)
HC = Hospitalised (Critical)

As at June 19, 2020, all individuals must wear face masks when going out. Wearing a reusable face mask with a filter (i.e. 3-ply) provides better protection at crowded places than not wearing or just wearing one reusable face mask without any filter (i.e. 2-ply), such as those sold at $1.00 to $3.50/mask at some retail shops and wet markets.

Please note:

1. Incorrectly wearing the face mask (e.g. large gaps between the face and mask, exposing your nose, hanging the mask around the neck), whether surgical or fabric will not be protective.
2. Wash your hands regularly with soap. Do not shake hands with others or touch door knobs and railing, if possible.
3. Do not touch your face with your hands, esp. when you are at work.
4. Do cover your mouth and nose with tissue paper when sneezing or coughing and proper disposal of the tissues.
5. Do comply with government regulations such as social distancing of 1 metre.

2020 is not the year to go for a fun vacation or mass gatherings. The Covid-19 virus is dangerous and more people in Singapore and overseas start wearing face masks. Buy a good reusable face mask with filters when going out to crowded places e.g. public transport like trains and crowded places like religious gatherings and supermarkets..

Wearing a reusable face mask with filter is more affordable than the single use disposable "surgical" face masks of unregulated, variable quality. The 3-ply and 4-ply Premium Reusable Water Repellent Face masks marketed by sinpets are NOT sold online. Let us know which of the 2 types of the fabric face masks you wish to order.

Buyers in Singapore usually use our water-repellent masks to protect themselves and families from breathing in droplets from coughs and sneezes when they go to public places, air-conditioned areas like supermarkets, inside the buses, taxis and subways. They use the masks when they have coughs and sneezes. The masks are recommended to be washed daily or when soiled. Each person should have at least 2 masks at any one time.
FOR MORE TYPES OF FACE MASKS, GOTO:
www.toapayohvets.com/reusable_face_masks.htm
Corporate and Individual Buyers (local and overseas):

Email to David Sing --- 99pups@gmail.com
Tel/SMS:

(Singapore +65)

9668-6468, 6254-3326.
2020 Covid-19 Virus Update globally

2020 Covid-19 Update in Singapore - Ministry of Health
Face mask sale in Singapore in March 2020

Face mask sale in Singapore in April & May 2020.

Cloth face mask without filters

About Dr David Sing Kong Yuen